SHIRIN GERAMI
Meet Shirin Gerami, Iran's first female triathlete
Woman makes history by becoming country's first female to take part in sport's world championship
By theguardian.com
Shirin Gerami participated in London's triathlon grand final on Sunday as Iran's first female triathlete. Photograph: Warren Little/Getty Images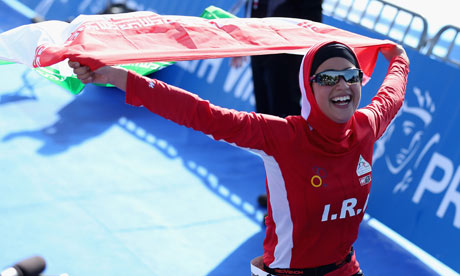 Shirin Gerami participated in London's triathlon grand final on Sunday as Iran's first female triathlete. Photograph: Warren Little/Getty Images
Shirin Gerami, a 24-year-old woman from Iran, has made history by becoming the country's first female triathlete to have taken part in the sport's world championship.
By racing in the London event, she paved the way and set a precedent for thousands of Iranian women who have previously been denied permission to race in triathlons abroad or swim in international events.
Iran's president, Hassan Rouhani, greeted her achievement by tweeting: "Shirin Gerami,1st female triathlete to have participated in world championship wearing Iran's colours #GenderEquality."
Gerami raced in full Islamic dress after Iran's sports ministry issued required paperwork in the last hours before the final began.
The Islamic republic's state news agency, Irna, quoted Mohammad-Ali Sabour, the head of Iran's national triathlon federation, saying that Gerami had secured an official blessing and was nominated after the International Triathlon Union (ITU) agreed to set up a tent where she could change into her cycling and running clothes after swimming.